Your account includes 3 regular email addresses per domain, and unlimited aliases and forwards. Additional regular email addresses are $4/month per address.
To add a new email address to your hosted email account, log in as the admin and click on the Admin option on the sidebar (you will be prompted to reenter your password).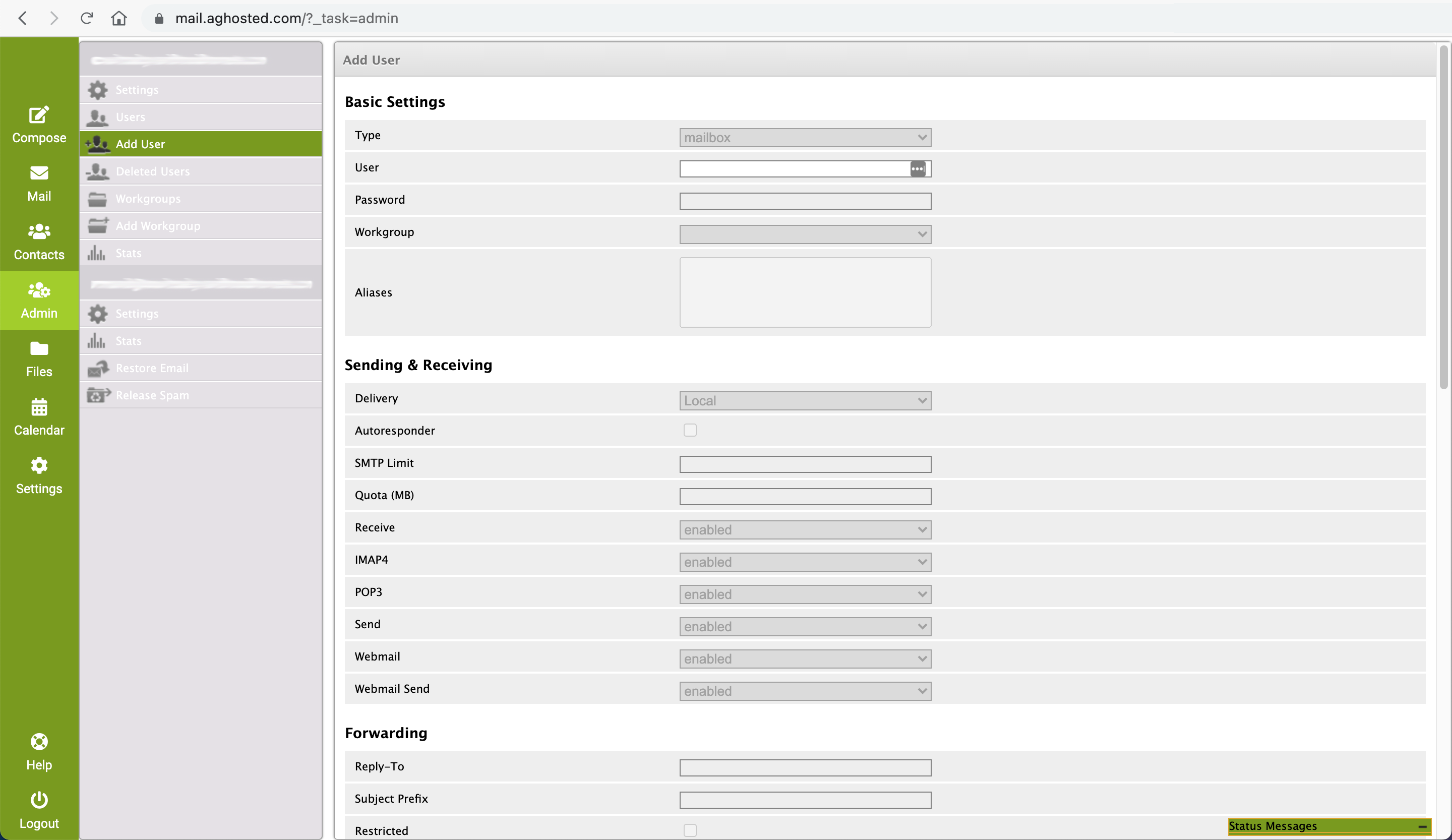 1. From the panel, click Add User.
2. Complete the User field with the first part of the desired email address, i.e. "contact".
3. Set the password. (We recommend a strong, unique password for each account.)
You can leave the default settings for the rest of the field, or customize your account further:
Basic Settings
Workgroup: A workgroup allows you to group email addresses together and assign an administrator for each workgroup; this is probably unnecessary unless you have dozens of email addresses.
Aliases: An alias allows you to receive emails at several addresses without creating separate inboxes for each address. For example, if you want to create multiple addresses (i.e. jane@, janed@, janedoe@) that all end up in the same mailbox, set them us as aliases. The address in the User field will be used to send emails. List multiple aliases on separate lines.
Sending & Receiving
Delivery: You have three delivery options for each email address you create:
Local: These accounts have a webmail inbox and can be accessed using a mail client
Forward: A forwarding address can be used to set up an email address without a dedicated inbox. For example, choose this option for your contact@ email address if you want those to go to a specific team member. You will set the Forwarding settings in the section below.
Local+forward: Use this setting if you want an actual inbox plus the ability to forward emails to other address(es).
Autoresponder: To allow users to create their own autoresponder in webmail, check this box. Users who use a mail client can create an autoresponder in that client regardless of this setting.
Quota (MB): The default size for each mailbox in your hosted email account is 5 GB or 5120 MB. However, you can adjust the quota, up to a maximum of 20 GB or 20480 MB.
We recommend leaving each of these enabled unless you have a specific reason for disabling them:
Receive
IMAP4
POP3
Send
Webmail
Webmail Send
Forwarding
Reply-To: Leave this field blank so that replies to forwarded emails are sent to the original sender.
Subject Prefix: This optional field allows you to append something like "FWD:" or "Contact Form" to the beginning of the subject line for every forwarded message.
Restricted: Leave this unchecked, as checking it means that only those email addresses on the Recipients list can send emails to the email address.
Recipients: Who should receive the forwarded messages? List multiple recipients on separate lines.
Autoresponder
If you've checked the Autoresponder box in Sending & Receiving, you'll use this section to configure the autoresponder.
Interval: How many days should the system wait before the same recipient receives the autoresponder again?
End Date: When should the autoresponder be discontinued?
Text: Use this space to write the text of your autoresponder. You should not use HTML or markup in this field.
Spam Settings
We recommend you keep the Use Domain Setting setting for each of these enabled unless you have a specific reason for disabling them:
Spam Header
Spam Tag
Spam Folder
Spam Level
Reject Spam: Selecting this option will reject messages considered spam rather than quarantining or tagging them. You should only activate this if you're experiencing high spam volume and you're confident that the spam filter is only catching actual spam messages.
Allow: This is your safe senders list. Add up to 1,000 email addresses here, with up to 5 wildcards per address, to ensure the emails you want are getting through. Enter one email address per line.
Block: Use this list to designate senders you do not want to hear from. Add up to 1,000 email addresses here, with up to 5 wildcards per address. Enter one email address per line.
Webmail & Metadata
Language: Select the language the user will see when they first log in to webmail.
Max Addressbook: The default setting on accounts is 500 contacts in webmail. Note: this does not limit the number of contacts you can store in your email client, only those in webmail.
Complete the user's information for each of the following fields:
If you need help setting up or configuring a new user, don't hesitate to email support for assistance!